After living in Ithaca, New York for 5 years, I developed a love for Korean food. Since the majority of restaurants in collegetown, our downtown area, were not good, I often went to Koko's, one of the few delicious restaurants. The ubokki (udon + tteokbokki) at Koko's is outstanding, so I took it upon myself to try and make it. This recipe was adapted from Korean bapsang's recipe for Tteokbokki.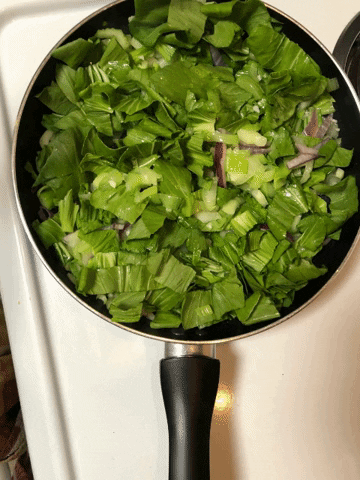 Spicy Stir-Fried Rice Cakes with Udon (Ubokki)
Ingredients
4 heads of Shanghai bok choy, cut finely and separated into leaves and stem
1/2 small onion, sliced
1 tbsp minced garlic
14-ounces of instant udon noodles
3 cups of broth or water
2 tbsp Korean red chili pepper paste gochujang
1 – 2 tsp red chili flakes
1 tbsp soy sauce
1 tbsp sugar
1 pound tteokbokki rice cakes (see Note 1)
How to Make It
Heat a large skillet over medium heat. Add 2 tbsp oil. Add stems of bok choy, cook until softening, about 2-3 minutes. Add onion, cook until soft, about 2-3 minutes. Add leaves of bok choy and garlic, cook leaves until wilted and garlic until fragrant, about 1 minute. Set aside.
Cover udon with 6 cups of boiling water. Let sit for 1 minute, stirring to break noodles apart, then drain. Set aside.
Add broth or water to a large pot. Stir in gochujang, soy sauce, red chili flakes, and sugar. Bring to boil over medium high heat until combined.
Add rice cakes. Boil until rice cakes become soft and sauce has thickened, about 8 – 10 minutes.
Add bok choy, onion, and udon. Continue to boil, stirring constantly, for an additional 2 – 3 minutes. Add more broth or water as necessary. Serve immediately.
Note 1: Tteokbokki rice cakes are often found fresh, in the refrigerator, or in the frozen section of a Korean market. I pick up my rice cakes from H mart.